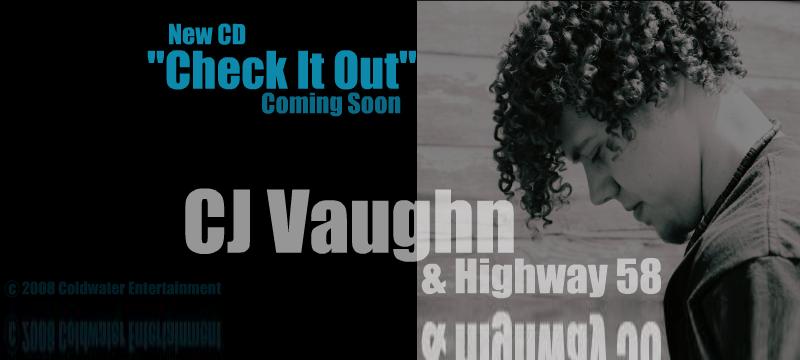 Flashback! 1991! Ray Charles smiles from behind is black grand piano, tips
his head back to drink from his Diet Pepsi can and croons, "You got the right
one, Baby, Uh huh!" At that moment a lightning bolt of soul hit a little boy from
Michigan with a life-changing jolt and the music of CJ Vaughn was born. His
influences are many; Allen Collay, The Meters, The Temptations, Jimi Hendrix,
Jack Pearson, Dr. John and the late Rich Mullins to name a few.
But perhaps none more than the great Ray Charles!
You can hear Ray in CJ's vocals, his styling and more than anything in his
SOUL!
The soulful rendition of "Baby Blue" a CJ Vaughn original and his version of
the great cover, "Drown In My Own Tears" are the blending of those and other

great influences in the music business. A CJ Vaughn show will leave you on the edge of your seat wanting more.
He will take you on a musical journey from blistering leads to the softest jazz and back again with the tightest
dynamics and purest respect for the music.

CJ Vaughn

Delaney 'Lane' Baker

Don Kendrick, (Drums & Percussion) affectionately referred to as "Big Brother" is the
New Orleans connection for the band. Don is from NOLA and his playing style reflects the
funk he learned from greats like Ziggy, the Neville Bros., and Allen Toussaint. He began
playing as a young kid and has not forgotten his roots despite playing with so many great
acts over the years. He has played behind many major artists such as Chuck Berry, Jerry
Lee Lewis, Freddie Fender, John Fred (& The Playboys), and many more. Don is a "groove
man" and he brings it to the stage every show!

Don Kendrick

Teaching the world to play drums one student at a time, Ross Lester (Drums & Percussion)
is the other half of the drum section in CJ's band. Ross is a funky man who has traveled
most of North America in search of the perfect rudiment. He seems to have lighted on one
of the drum thrones in Highway 58 with a perfect 3-point landing. Ross has a lovely wife
and 3 awesome young men calling him "dad", a title he wears with pride. Before he
connected with CJ, he toured with several different bands including the great Roland
Gresham for many years and then settled into music education. Highly animated

on stage, Ross is as fun to watch as he is to hear. Together, he and "Big Brother" make for a great percussion
section.

Ross Lester

What band would be complete without the token jokester? Larry van Loon (Hammond B3 &
Keyboards) brings a smile to everybody's face with his wit and what the rest of the band
calls "Larryisms". He has a knack of delivering a one-liner for just about every occasion.
Here, just listen to his self-description . . ." I'm a keyboard player with a specialty in B-3
styles. I live in a wee dell at the foot of Gleng'ry Hill in Nashville where I raise turkeys,
occasionally displaying them on MySpace . . ." But make no mistake, Larry has seen his
share of stage time performing with such greats as Muddy Waters, B. B. King, Willie Dixon,

John Lee Hooker, Bobby "Blue" Bland, Buddy Guy, Martha Reeves, Jay McShann, Gregg Allman, Air Supply, The
Winans, The Mighty Clouds of Joy, and Oleta Adams to name a few. His mastery of a B3 is hard to beat, almost as
good as his one-liners!

Larry van Loon











© Copyright 2011
www.cjvaughn.com

Please email webmaster@cjvaughn.com with any problems or suggestions.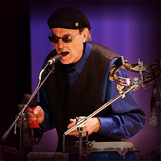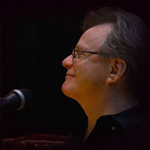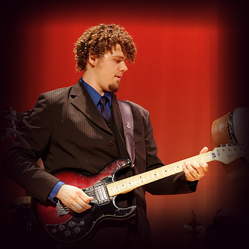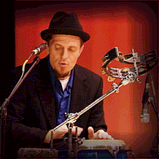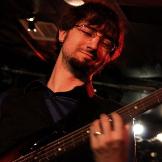 Delaney Baker holds down the low-end on the Fender P. The newest addition to the
Highway 58 crew, Delaney has spent the past 6 years cutting his teeth in the southern
club circuit playing behind such local favorites as Nick Carver, Pops McGee, and Dave
Broomhead, to name a few. When not behind the four string, Delaney spends a lot of time
with a pen and paper as a songwriter. He currently teaches lessons at Johnny Guitar's in
Murfreesboro, TN and enjoys sharing his passion for music with a new generation of
players. "I am honored to be a part of Highway 58, I have a lot of fun playing with CJ and
the guys and I'm looking forward to what's to come."